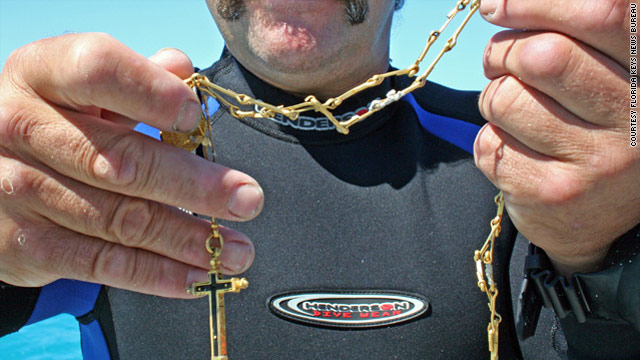 The ocean floor off the Florida Keys never seems to stop giving.
Diver Bill Burt with Mel Fisher's Treasures was looking for a section of the sunken Spanish galleon, Nuestra Senora de Atocha, this week. Instead, he came across a 40- inch gold chain shimmering on the sandy ocean floor about 30 miles from Key West.
The chain, which is believed to have come from the Atocha, contains a gold medallion and a gold cross. The cross appears to be, according to the salvors, inscribed with Latin letters. It is estimated to be worth $250,000.
Mel Fisher's team found a portion of the Atocha and $450 million worth of artifacts and treasure in 1985. But the contents of the Atocha's sterncastle, a wooden fort shaped area at the back of ship, have never been recovered. The Atocha sank during a hurricane in 1622. A second hurricane is believed to have torn the sterncastle from the Atocha and carried it miles away.