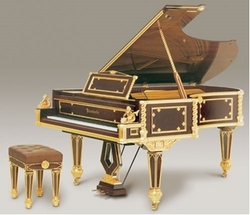 Bosendorfer is very excited to extend an extremely rare privilege to piano lovers in Washington State. Over $3 million worth of carefully crafted Bosendorfer pianos are now assembled for shrewd and smart buyers in Bellevue, Washington. This is the largest piano sale of its kind ever conducted on US soil.
Bosendorfer pianos are world-famous for their inspiring sound and rich in the tradition of hand-craftsmanship. Acquiring one of these instruments is a lifetime dream for many people. Because they are built with very special devotion, it's rare to see savings such as these being offered.
In early April, Bosendorfer of Las Vegas, one of the largest Bosendorfer retailers in the world, closed their doors. Bosendorfer of Vienna and the banks associated with the closing have transferred all inventory from the Las Vegas showroom direct to Classic Pianos (
http://www.classicpianosseattle.com
)] in Bellevue where each piano will on display and offered for sale beginning Thursday, May 20th.
"Classic Pianos was chosen by us to conduct this sale because of their national reputation, award winning technical expertise and financial strength. We have given them our complete cooperation and are providing them with incentives to make this a piano event never to be forgotten," said Ray Chandler, Bosendorfer's U.S. Director.
Bosendorfer (
http://www.boesndorfer.com
), acknowledged as the leading worldwide builder of premium grand pianos, is the oldest, continuously operating piano manufacturer on the planet. The company handcrafts instruments to be jewels of European artisanship with a uniquely singing, resonant, and colorful sound that captivates musicians and audiences alike. Since 1828, Bösendorfer pianos have become the standard by which other grand pianos are measured, From the 5'8" baby grand to Bosendorfer's thundering patriarch, the 97-key, nine-foot, six-inch "IMPERIAL" concert grand, each Bosendorfer takes nearly five years to complete.
Classic Pianos owner Maurice Unis stated "We are pleased to have been selected by Bosendorfer to conduct this event. Our award winning technicians have meticulously prepared each piano for potential clients to see, hear and play."
To provide an enjoyable and distraction-free environment, admission to the sale is by reservation only. Classic Pianos has dedicated an entire floor of their showroom at 10635 Northeast 8th Street in Bellevue for the showing and sale of these pianos. Please call 425.451.4774 to make at reservation
About Bösendorfer:
One of the oldest piano manufacturers, Bosendorfer was established in 1828 by Ignaz Bösendorfer. From the outset, it has had a history of producing highly respected instruments. In 1830, it was named official piano maker to the Emperor of Austria. Ignaz's son Ludwig Bösendorfer (April 15, 1835 – May 9, 1919) took over in 1859, operating from new premises from 1860. Between 1872 and its closure in 1913, the associated Bösendorfer-Saal was one of the premier concert halls of Vienna. In 1909, the company was sold to Carl Hutterstrasser, who was succeeded by his sons Alexander and Wolfgang in 1931. In 1966 Bösendorfer was taken over by the Jasper Corporation (later renamed Kimball International), parent company of Kimball Pianos, where it remained before returning to Austrian hands when it was purchased by BAWAG PSK Gruppe in 2002 BAWAG signed an agreement to sell all stock in Bösendorfer to Yamaha on December 20, 2007
About Classic Pianos:
In 2001 Maurice Unis and his eldest son, Brian, opened Classic Pianos - next to the Aladdin Theater - at 3003 SE Milwaukie Avenue in Portland Oregon in a historic building that had earlier housed a violin maker. As soon as the shop was established, a very diverse community of piano-related businesses grew up around Classic -- craftsmen and technicians dedicated to the restoration of fine old instruments, a piano moving company, piano teachers working out of the studios at Classic, and a sheet music business. – created Classic Pianos "campus" at the east end of the Ross Island Bridge. The expansion included a newly remodeled, acoustically-enhanced, Recital Hall that occupies the space adjacent to the Aladdin Theater.
In 2009 Classic Pianos opened their Seattle showroom and have become one of the leading piano dealers in the U.S., winning multiple awards from piano manufacturers worldwide. Other Classic Piano showrooms can be found in Albuquerque, NM, Anchorage, AK, Las Vegas, NV and Akron, Ohio.
About: The Bosendorfer EMPEROR Piano:
In 1869, the Emperor of Austria presented a richly ornamented grand piano as a gift to the Emperor of Japan. Only a short time later, however, the instrument went into hiding. The piano's plans still exist and are now used as a basis for production of the model Emperor, an exact replica of the original instrument. The piano is decorated with richly carved and gilded details, all made by hand in a painstaking process designed to recreate the piano's special imperial touch.
One-of-a-kind Bosendorfer 9'6" "Imperial" Concert Grand PianoReplica - 1869 Austrian present to Emperor Meiji of Japan -US$1.25 Million
Phone Number: 425.462.1888 or 425.451.4774